On Thursday, January 30th, Jameson Camp celebrated the grand opening of a new activity center, pavilion, and two remodeled areas (Health Center and Cabin). This $3.7M project was possible due to several donors contributing to the Reach For The Stars Campaign!
This new project will help Jameson Camp expand their reach deeper into the community. "We are now able to simultaneously run day camp and overnight camp and provide a much needed childcare option in our community." said Jennie Broady, Jameson Camp's Executive Director. This summer, we hope to see an additional 300 kids in our programs. In addition to a new 10,000 square foot building, the 125 acre property is now the home of a FEMA rated tornado shelter that can house 150 individuals during severe weather. Ms. Broady shared "Safety is our number one priority. This tornado shelter will allow us to have all of our children in the same safe space, instead of multiple tornado-safe locations throughout camp. Having everyone together brings a greater peace of mind to us, and the families we serve."
Jameson Camp remodeled two existing areas in this project as well. The old Program Office/Health Center became a new cabin for residential living, expanding the capacity by 20 beds. The old Administrative Office became the new Health Center with a fully handicapped accessible restroom, plus sleeping quarters for 6. During the school year, the Health Center will double as a Bridal Suite. Jameson Camp is wonderful venue for items such as weddings, retreats, and corporate gatherings. In addition to donations and sponsorships from our corporate partners, these groups and conferences help Jameson Camp provide financial assistance to families in need. Almost 100% of Jameson's campers receive some form of financial assistance. Over 82% are living at or below the federal poverty line. In addition to limited financial means, over 46% of our campers have at least one diverse ability diagnosis, like ADHD, Autism Spectrum Disorder, PTSD, ODD, etc. Jameson Camp excels with children who might struggle with behavior, due to their low 1:4 ratio.
Do you know someone looking for a camp experience this summer? Click here to register!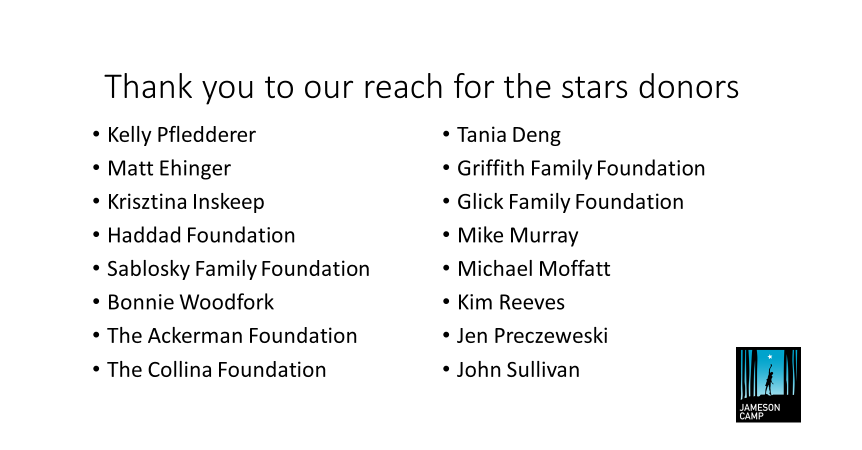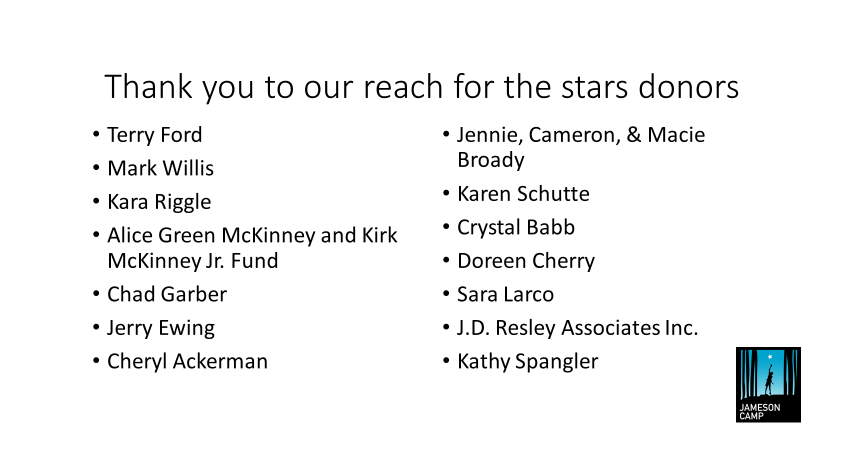 Follow us on Instagram and Facebook for the most up to date information! Check out our "non-traditional" camp-pro-style ribbon cutting below!