Jameson Camp is a nonprofit organization dedicated to empowering young people by removing barriers to healthy and vibrant experiences in nature. If you're interested in being a part of a team that delivers an unforgettable camp experience, consider joining us.
CAMP MIGHT BE RIGHT FOR YOU IF:
You enjoy building genuine connections with young people between the ages of 7 and 17

You are excited to work with a diverse group of campers and colleagues

You are looking to live at camp during the summer (weekends off!)

You want to make a difference in your community, earn a paycheck, and have fun all at the same time

You do your best work in sunshine and fresh air
WHAT'S IN IT FOR YOU?
Experience: if you're interested in working with youth, spending a summer at camp shows future employers that you have a variety of talents.

Community: Lifelong friends are made at camp. The people you work and live with can become some of your closest friends.

Purpose: You will end the summer knowing you made a difference in the lives of hundreds of kids.

Compensation: Staff pay starts at $325/week, with housing and all meals provided (even during the weekends!)

College credit: If your college or university offers internship or practicum credit, we are happy to participate in that process.
Qualifications for All Roles
Age 18+ or a high school graduate by the first day of camp

Experience in childcare is required. Experience working with youth at a camp or school is preferred.

All applicants must pass a background check

Applicants must be able to attend staff training (May 27-31) and at least 6 of the 8 weeks of summer camp
Camp Counselor
Two camp counselors supervise a group of 10 campers the entire time those campers are at camp. They lead games and activities, facilitate daily routines, and ensure the wellbeing of every camper. Within each cabin, one counselor has a  bunk in the room with the campers and the other has a bunk in an adjoining counselor room; counselors often alternate. Counselors are mentors, problem solvers, role models, referees, risk managers, decision makers, and collaborators.
Lifeguard
Each day, the pool is open for about four hours. A team of certified lifeguards supervise the pool to ensure camper and staff safety. They actively watch everyone in and around the pool and maintain a proper environment. In the evenings, lifeguards cover for camp counselors during "nights off". Lifeguards also receive a night off. Lifeguard certification is available at no cost to strong swimmers.
Behavior Specialist
Our out-of-ratio roaming behavior specialists allow us to better support campers with ADHD, autism, depression, anxiety, and other mild to moderate behavioral and mental health needs. Experience working with children in a supportive environment is required. Special education teachers and aides, paraprofessionals, behavior technicians / RBT's, and others with experience working with children with special needs are encouraged to apply. CPI or Handle with Care training will be provided. Pay rate: $17 per hour.
Ropes Course Staff
Jameson Camp features a rock climbing wall, zipline, high ropes challenge course, and low ropes challenge course. Ropes course staff receive specialized training in the safe operation of these activities. Experience rock climbing, facilitating teambuilding, and/or working at height are welcome but not required. In the evenings, ropes course staff cover for camp counselors during "nights off". Ropes course staff also receive a night off.
Kitchen Support Staff
Feeding 100+ people breakfast, lunch, and dinner is no small task! Under the supervision of the Kitchen Manager, kitchen support staff will prepare and serve meals while ensuring a healthy and sanitary environment. Experience in foodservice is preferred but not required.
Health Center Staff
Under the direction of the Health Center Manager, the Health Center Staff will treat minor injuries, counsel homesick campers, manage medications, and document all treatment. Healthcare experience is preferred.
SKILLS YOU WILL BUILD WORKING AT CAMP:
Oral Communication Skills
You will be required to communicate effectively with people at every level of the organization – campers, fellow staff, and parents/guardians
Critical Thinking and Problem Solving
You will be challenged to think on your feet to resolve a myriad of issues around behavior choices, social dynamics, health and safety, and more
Interpersonal and Leadership Skills
You will model professionalism and compassion by managing a group of campers, while contributing to the growth and development of each camper and colleague
Collaborative Skills
You will receive on-the-ground, practical, real life training in how to work with a team and help build the culture of our camp community
Creativity
You will develop innovative and fun ways to engage an audience of two to 200 and implement alternate plans when faced with unexpected changes to the daily routine
(adapted from the American Camp Association)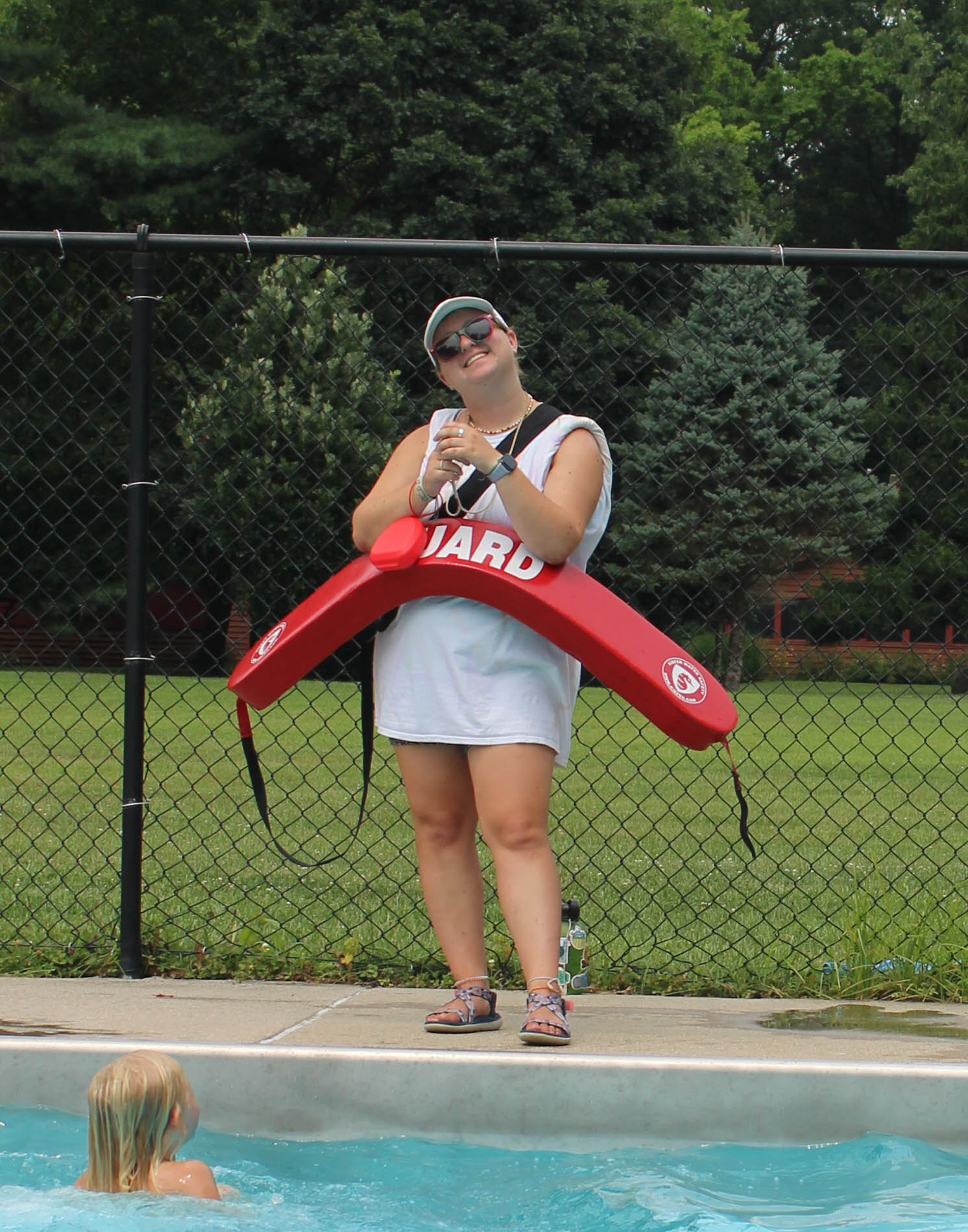 2024 CAMP STAFF SCHEDULE AND TRAINING:
Lifeguard and Ropes Course trainings for select staff take place May 20-24
Staff training week begins on May 27 and ends on May 31. This is mandatory for all camp staff.
Camp is in session from June 2 through July 26. Staff should be able to work at least 6 of the 8 weeks of camp.
Hours and Time Off: Staff work from 5pm on Sunday to 6pm/Dismissal on Friday each week. Generally, staff receive one night off each week (either Tuesday, Wednesday, or Thursday night). Staff are off each weekend from Friday evening until Sunday evening. Camp staff may stay on site over the weekends but are not required to do so. All roles are seasonal, full time positions.
Over the course of a paid week of staff training, you will:
Learn the "hard skills" of camp, like how to facilitate each camp activity, where facilities are located, First Aid and CPR, and our youth protection barriers

Learn the "soft skills" of camp, like positive behavior supports, working with campers with special needs, conflict resolution, and effective communication

Begin building relationships with the other camp staff members that you'll collaborate with to deliver an excellent camp experience